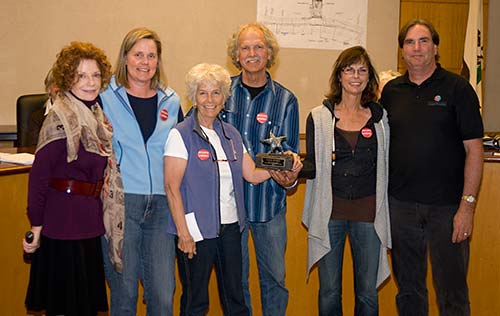 The Laguna Beach City Council Chamber was full of excitement Tuesday night, April 19.  The Environmental Committee had endorsed the Laguna Bluebelt for the City's 2010 Environmental Award.  The magical Star Fish created by John Barber, mounted on a piece of wood from the City's former boardwalk served as the trophy.
With much satisfaction, Mayor Iseman presented the award to Coalition members Sandy Dildine, Charlotte Masarik, Mike Beanan, Jinger Wallace and Ray Hiemstra.
Coalition members were honored to receive the award and Mayor Iseman summed up the the feelings of the group in her comment – " This is a proud moment!"
Watch the City's video recording of the presentation and join the celebration!
The award was presented by Environmental Committee member John Stevens who mentioned his own experience in the South Pacific where they had a tradition among the fishing community of setting aside marine reserves for extended periods of time to allow them to recover. This was supported by the entire community as a way to sustain their fisheries for generations.
"With this award, the ocean, which defines our community, achieved the recognition and honor it deserves," ~Mike Beanan